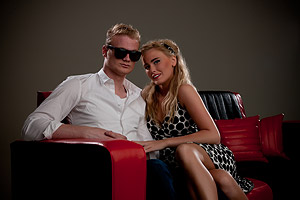 During the year of 2009 an idea of making a couch that resembles the backseat of a classic American car from the 50's and 60's, grew. That idea has now become real and a model has been designed.
Raggarsoffan has a solid wooden frame and is sold complete from Mobellogen in Vasteras, Sweden. Note that this is not diner furniture but a truly comfortable living room couch for longer sitting and socializing.
There are elastics in both the seat and in the back. You can choose your own color on the vinyl, fabric or leather in order to match the interior of your own classic car. The idea is to be able to continue the cruising in the living room, or in your garage, even when the winter weather prevents you from taking the car out. Deliverdate in July and December.
Car enthusiast or not, this is a cool retro styled couch that can suit most people.